Inviting anglers of all kinds to test their skills. 
If you're a fan of fishing all day, having fun all night, and doing both for a great cause, then you're in luck. The 2019 Cobia World Championship and Crab Cruncher Classic are two can't-miss fishing tournaments for any serious anglers. Held every year in Destin, Fort Walton Beach, Okaloosa Island, these are two of Florida's most highly-anticipated fishing tournaments. The 2019 Cobia World Championship is a month-long contest to land the biggest fish, while the Crab Cruncher Classic gives participants just three days to beat the competition. With parties, food, big checks, and thousands of dollars at stake, there are so many reasons to feel lucky in Destin, also known as "the World's Luckiest Fishing Village." 
But, we can't forget the cobia. Each spring, cobia migrate to the warm waters of the Gulf of Mexico, but its connection with our area dates back to our roots as a small fishing village founded more than 150 years ago. The cobia's exceptional flavor make it a highly sought-after fish for our area's award-winning restaurants, and is a staple among our local fishing industry. 
For these two fishing tournaments centered around the cobia, it isn't about how the fish tastes, but how much it weighs. Cobia can grow upwards of 170 pounds. Since tournament participants have to land a cobia on a rod and reel, last year's Cobia World Championship winner weighed in with an impressive 79-pound behemoth while second place went to a 75.7-pound fish. This year, who knows what records will be broken and set. First place not only takes home the distinction of 2019 Cobia World Champion, but also receives thousands of dollars in prize money.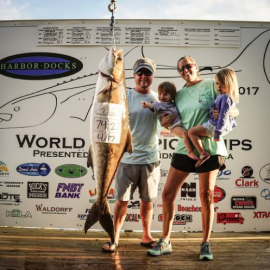 However, you don't have to land record-breaking cobia to have a good time during either one of these annual tournaments (though it would help.) A fun day fishing deserves an equally fun evening of good friends, good food, and good times. Each night during both tournaments, parties will be held to bring an official end to the day of fishing. Both tournaments kick off with a welcoming party, and each evening there is a weigh-in event which is a great chance for participants to get together and talk about their ups and downs of the day. All parties and weigh-ins feature food from area restaurants and are hosted by special guests. All festivities take place at Harbor Docks in Destin. 
Even with all the fun and excitement of bringing home first place with a monster fish, this tournament is more than just about winning. It's about raising money for Harbor Dock's 25th annual Take-A-Kid Fishing Day on Sunday, November 3, 2019. We want to treat over 200 children to a fun-filled, memorable day of fishing aboard some of Destin's finest charter boats. Every child will receive their very own fishing rod and reel as well as a lifetime of memories and valuable skills. Entering these tournaments helps us give many underprivileged children one of the most exciting days of their lives. 
To learn more about the 2019 Cobia World Championship and Crab Cruncher Classic, and for official tournament rules, visit HarborDocks.com/Cobia-Tournaments.