Sip your way through homegrown flavors in the Destin-Fort Walton Beach area. You will find breweries where you can have beer and much more. 
Stop #1 is where you will find Bayou Brewing Company in Niceville, which is owned by a local Air Force veteran. On a hot summer day, you can find a refreshing "Grave in the Garden" Raspberry Sour while listening to some live music.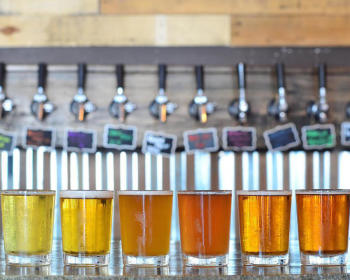 Stop #2 is only 1.4 miles east, and you will find Props Ale House. Props was founded by two USAF special operations pilots with a passion for brewing beer. You will find unique and fun small-batch brews throughout the year. From the Blonde Bomber Ale to the Ice Fog & Hazy IPA, there's something for everyone. Don't forget to enjoy their great food menu as well.
Stop #3 is only .4 miles to the east, and will land you at Strange Colt Brewery. The brewery is a Euro-style pub, serving craft beer, brewed on-site, and a dynamic food menu with craft beer inspired fare. You may wonder about the name? Owners were searching for a name that embodied the character of their beers and the culture of beer enthusiasts. Born from British roots, they were enamored by the classic neighborhood pubs of Europe.
Stop #4 is a short 0.5 miles to the east. 3rd Planet is Niceville's first craft brewery which has created a vibrant atmosphere in the community. They opened the "Launchpad" in April 2016 brewing eight quality in-house taproom craft beers on a two-barrel ruby street system. The goal was to serve great tasting craft beer in a cool taproom that the community supported.
Ready to head further south? There are three great options in Fort Walton Beach. 12.2 miles south of Niceville will find you on your next stop.
Stop #5 will land you at Fort Walton Brewing Company, a Nano Brewery (2 Barrel), that strives to brew quality beer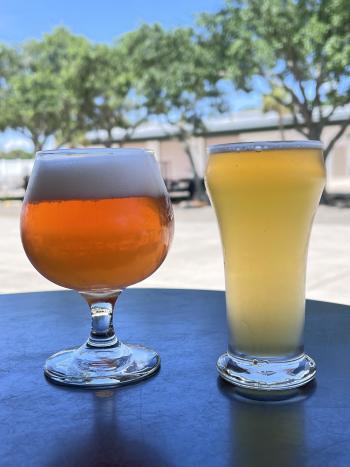 using the highest quality ingredients incorporating unique local flare and flavors. All of the beers are unfiltered, and consist of 100% all natural ingredients. You will find IPA's, lagers and light beers, dark beers-browns to stouts, sour beers, ciders, and hard drinks at this location.
Stop #6 is 3.8 miles to the east. At Props Craft Brewery & Taproom, you will get a chance to see and taste the distributed series that gets the name from shared experiences in propeller aircraft. Two owners flew special operations missions in various props planes throughout the world, and one owner was a helicopter door gunner/flight engineer in various types of special operations helicopters. The distributed series can be found in bars, package shops, and grocery stores along the Gulf Coast and beyond.  
Stop #7 is only 4.1 miles to the east.  Props Brewery & Grill at Props Brewery, you will find a patriotic atmosphere where people can drink specialty craft beers while having a bite to eat. The original location is where they have perfected the recipes of the most loved brews, and brewers still brew there regularly today. Grab a great bite from their full menu. You won't go away hungry or thirsty.
Make your way across beautiful Okaloosa Island, and land in Destin where you find several more sipping stations.
Stop #8 is 7.1 miles to the east, and where you will find Destin Brewery. Their brew house started with a three-part brew system, including three four-barrel fermenters, a chiller, a hand-built walk-in cooler, and wall mounted tasting taps. They keep a core selection of beers on tap. From porters and stouts, sours, hard seltzers gluten free, lagers, ales, IPA'S, and the Bikini Saison, there's a taste for everyone.
Stop #9 is only .3 miles to the east, and that is where you find Beach Camp Brewpub. The new brewing facility was engineered into the old Hog's Breath restaurant on Highway 98.  Hand crafted cocktails, world class beer, and wine can be found in this new location.  From the Blonde With No Name to Smash-A-Rillo, there's something for everyone.  The rear smokehouse will be firing up some great barbeque, and if that's not enough, they also offer local seafood.
Of course, plan ahead to have a designated driver in your group as you make your way on this exciting trail in the Destin-Fort Walton Beach area and beyond.