The Heart of Florida's Emerald Coast knows how to celebrate all things boating with two fun-filled Boat Weeks and Poker Runs.  If you love getting out on the water and want to try your hand at a poker by boat then check out these August events!  
The Emerald Coast Poker Run has been the highlight of Emerald Coast Boat Week for over 25 years.  The fun takes place August 7-10th with a week of exciting events and all proceeds go to the recipient children's charities of the Emerald Coast Foundation. Over the years, they have raised over 2.5 million dollars for local children in need! The festivities begin with an official kickoff party held at AJ's on the Bayou at 6pm on Wednesday, August 7th.  The 27th Annual Emerald Coast Poker Run also known as the "Big One" is held Saturday, August 10th from 9am-4pm with stops being open from 10am-4pm. Poker Run stops along the Emerald Coast include Fort Walton Beach Landing, AJ's on the Bayou, Legendary Marine, and Adventure Marine, among others.  The week concludes Saturday evening with a party held at the Emerald Coast Convention Center.  Guests may take their chances at poker, Black Jack, and enjoy delicious food and drinks!  For a full line-up of activities and information on registration visit www.emeraldcoastpokerrun.com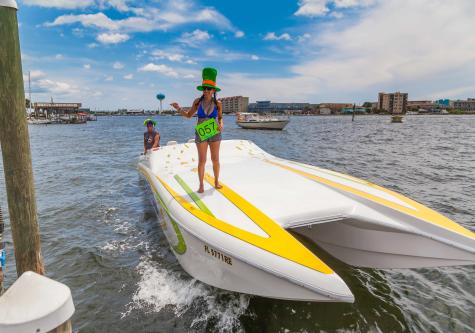 Powerboat enthusiasts take note! You will not want to miss Emerald Coast Powerboat Week which will be sure to make waves in Destin, Fort Walton Beach, Okaloosa Island August 14-18th.  A full week of activities planned by Florida Powerboat Club will take place with Emerald Grande as the host resort.  Take a visit to HarborWalk Village for a "Trucks 'N Boats" Powerboat Parade on August 14th at 7pm or partake in the Early Bird Fun Run on the 15th.  The Captains Kick-off Party is held at AJ's in Destin and the big Poker Run day is Saturday August 18th.   The week ends with a can't miss party on Sunday! A full schedule and registration information can be found at www.flpowerboat.com.
Boating along the Emerald Coast has never been so exciting with these Poker Run events!  Grab your friends, test you luck, and enjoy all that the Emerald Coast has to offer.