Destin-Fort Walton Beach is the perfect place to discover kayaking adventures.  Just a short drive north of Destin-Fort Walton Beach, you will find some amazing secluded spots.  In nearby Crestview, there are great restaurants and places to stay after having a fun-filled day on the water!
First stop: Blackwater River State Forest: Karick Lake Recreation Area
North of I-10, Blackwater River State Forest offers two great opportunities for satisfying your adventurous spirit.  While Karick Lake does not permit swimming, canoeists and kayakers are welcome, and there is a boat ramp.  The lake is well stocked if you have a hankering for some freshwater fishing.  If you're camping, you can pick out a campsite right on the shore of the lake that will be good for the soul from sunrise to sunset.
Head 15.6 miles south and land at Blackwater River State Forest:  Wilderness Landing
Wilderness Landing, also at Blackwater River State Forest, is a backcountry experience you will love.  From Highway 4 in Baker, take Barton Road to Corduroy Road.  Go left on Corduroy, then left again on Wilderness Landing Road.  You'll be rewarded with some wonderful and challenging hiking trails, as well as a boat ramp right on Blackwater River.  There's a small beach for tubing or splashing in the sun.  If you're RVing and into boondocking, this is an ideal spot with good amenities, including hot showers, nice bathrooms and running water.  For a full- or part-day adventure, check out Blackwater Joe's.  These pro paddlers offer both canoe and tube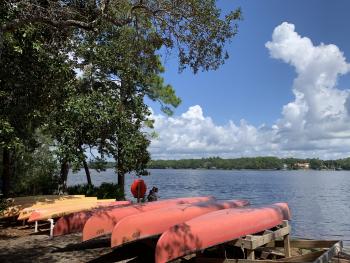 rentals, as well as cabins and camping for a magical overnight experience.
As you wake up refreshed for a second day of adventure, Niceville has you covered.
Rocky Bayou State Park offers visitors and locals a chance to enjoy the great outdoors.  The park is popular for biking, boating, fishing, hiking, canoeing, and kayaking.  The park's diverse wildlife communities will also give you a chance to enjoy Mother Nature at its best.  Rocky Bayou is a fresh-to-brackish water system supporting a large variety of fish and shellfish, including the federally endangered Okaloosa darter.  Several designated species, such as osprey and bald eagles, are known to nest within the aquatic preserve.  Osprey, in particular, are often sighted by campers, kayakers, and locals.  It only costs $5.00 per vehicle to enjoy the park.  For more information on Rocky Bayou State Park, check out this link.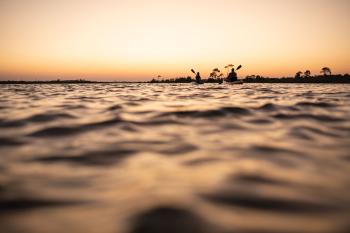 The adventures don't stop there.  Once you land on the coast in Destin-Fort Walton beach, the possibilities are endless.  With several kayak rentals in the area, you will surely find one that fits your needs.
Spectre Island offers an exceptionally peaceful area to enjoy Mother Nature.  Nestled in Santa Rosa Sound near Fort Walton Beach, the island is tucked away and is home to a myriad of birds, fish, and other critters found in its waters and along its shore.  Clear water allows for snorkeling or scuba diving in an unforgettable setting. 
Just to the east you will find Ross Marler Park, located on Okaloosa Island.  Marler Park is the perfect place for kayaking.  The usually calm waters of Choctawhatchee Bay offer a place to relax and unwind, and you will have all of the amenities.  A handicapped accessible fishing platform, two boat ramps, two sets of bathrooms, several pavilions, grills, a roped off swimming area, and a walking trail with interpretive signage are all available free of charge as you enjoy this county park.
Want a little more action?  Then head a short distance to Gulf Islands National Seashore also located on Okaloosa Island.  The area features white sandy beaches on Choctawhatchee Bay with a boat launch for a kayak, canoe, or paddleboard for easy access.  There is a fee to enter the park.  The National Seashore operates on an honor system when it comes to payment.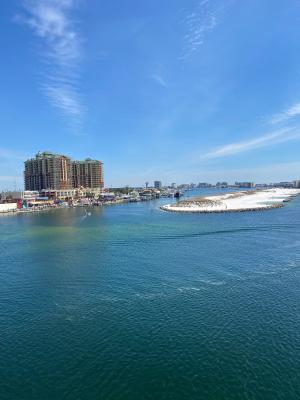 6.2 miles East to Destin.
At Destin Harbor, you will find plenty of action as you launch your kayak from HarborWalk Village.  Explore Norriego Point, a sandy beach located near the end of Holiday Isle.  One side of Norriego Point faces the Destin Harbor while the other side faces the east pass that leads out to the Gulf of Mexico. During the busiest times of year, you will be sharing the water with boats of all sizes.  Destin Harbor is the place for those looking for a ton of action. 
If that wasn't enough, try your skills in the beautiful Gulf of Mexico.  Okaloosa Island's Beasley Park and seven other beach accesses on Okaloosa Island give you an opportunity to kayak on the Gulf which is normally calm.
With so many places to get out and enjoy a kayaking trip, you will feel like you're on an outdoor adventure.  Here's a list of kayak rental places in Destin-Fort Walton Beach to help guide you on the perfect adventure:
*Destin Kayak Rentals-PaddleFish Outfitter, LLC