If you see food…eat it.
Every fall the Destin Seafood Festival fills the Destin Harbor with three days of fun, live music, and of course, mouthwatering, Gulf-fresh seafood. Typically taking place in early October, this family-friendly event is free to attend and attracts foodies and party lovers alike year after year. The laid-back atmosphere surrounding Destin Harbor sets the mood for a weekend of good times, good friends, and good food to be enjoyed by all.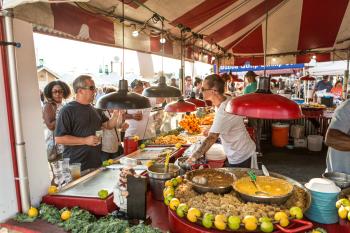 While many will stop by the Destin Seafood Festival for just one day, we suggest extending your stay. With so many different vendors serving up their unique take on locally caught seafood, and three stages with different bands every night, we hope you'll stay the whole weekend and maybe even a little more. Because, Destin-Fort Walton Beach offers so much more than a beloved seafood festival. 
Of course, seafood is an integral part of our area's history. What started as a small commercial fishing village, founded more than 150 years ago, has grown into one of the world's leading beach destinations. And if you haven't experienced them for yourself, our beaches are one of a kind. Sugar-white, powder-soft sand meets glistening, emerald-green water to create award-winning beaches. However, there's more to Destin-Fort Walton Beach than great beaches. 
Here, adventures abound both on and off the water. Explore sprawling nature preserves perfect for a hike, bird watching, and seeing some of our native wildlife in their natural habitats. Discover heart-racing fun with Jet Ski and boat rentals, and even rides at local amusement parks. Slow things down with a relaxing tour of our coastline and bay waters on paddleboards, kayaks, and canoes. Kids and adults love our indoor activities such as an interactive aquarium, multiple museums, and several shopping options. Plus, while you'll savor plenty of fresh flavors at the Destin Seafood Festival, there are numerous waterfront restaurants found throughout the area serving Gulf-to-Table seafood that is a must for any serious foodie.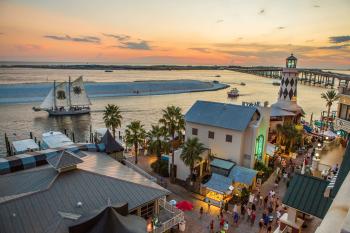 So, after you've sampled an array of delicious Gulf-fresh seafood, and enjoyed the live music, where will you lay your head at the end of each day? With more than 13,000 rooms available across a variety of accommodation types, you're sure to find the perfect place to call your home away from home. Whether you're a foodie traveling alone, or bringing along friends and family, we have accommodations to fit any style, need, and budget. Enjoy a private rental offering multiple rooms, full kitchen, and all the amenities of home, or pamper yourself with luxurious resorts directly on the beach. Any one of the area's several hotels will satisfy groups of any size, and a romantic bed & breakfast is perfect for couples looking to get away. 
Start planning your trip today, find the right accommodation for you, and we'll see you one year at the Destin Seafood Festival.