Nothing beats a day of relaxing on one of our gorgeous, sugar-white sand beaches of Destin, Fort Walton Beach, Okaloosa Island. Whether you're splashing in the warm, emerald-green waters of the Gulf of Mexico, playing on the powder-soft sand, or just lounging in the sun, it's easy to see why we're known as the Heartof Florida's Emerald Coast. 
However, it's not all Gulf breezes and sunsets. If you're not prepared before setting foot on the sands, your relaxing beach getaway could be anything but. Luckily, there's nothing to fear. A great day at the beach only takes a few safety procedures to ensure everyone leaves with a great tan and a big smile. These are three things to know before you go…to the beach.
Flag Fundamentals

Whether it's old glory or thrown as a penalty at a football game, flags make us stop and think. That's why it's important to check which flags are out when you arrive at the beach, and to know what they represent. Even if it's a beautiful, sunny day, currents and surf could still pose varying levels of danger. 
Green indicates low hazard and means calm conditions, but swimmers should exercise caution.
Yellow indicates medium hazard and means moderate surf and/or currents. Knee deep is too deep. 
Red indicates high hazard and means high surf and/or currents. Avoid swimming.
An additional red flag means the water is closed to the public.
Purple indicates dangerous marine life.
A Tip to Avoid the Rip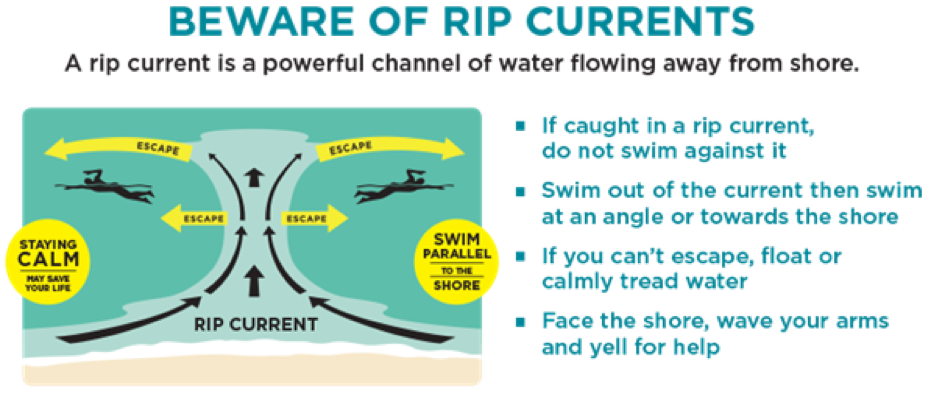 A rip current is a powerful channel of water flowing away from the shore. Even the most athletic and strongest swimmers can be pulled out into the Gulf by a mild rip current. Swimming against a rip current, that means towards the shore, will tire anyone out in a matter of seconds, and the results could be disastrous. However, rip currents don't have to ruin your day at the beach. Follow these rules, and you'll be back to enjoying your beach day in no time.
One of the best visual indicators of a rip current is a gap between waves. 
If caught in a rip current, do not swim against it. This is commonly an individual's initial instinct, but can wear out even the best swimmers in seconds.
Swim out of the current and then swim at an angle or toward the shore. Always swim parallel to the shore when attempting to swim out of the rip current, and never directly towards the shore.
If you can't escape, float or calmly tread water. Face the shore, wave your arms, and yell for help. 
Be tan, not Toast
Obviously, you'll want to catch some rays while you're at the beach. However, you want to leave your beach getaway with a healthy tan, not looking like an overcooked lobster. Have no fear, with a little preparation you'll be enjoying compliments on your tan instead of fearing concerned looks for your blistered skin. 
Sunscreen is your best defense against the harmful UV rays while at the beach. The American Academy of Dermatology recommends that you select a sunscreen with an SPF rating of 30 or higher, but don't be afraid to go for the strong stuff if you have fairer skin. Since you'll want to jump in our emerald-green waters, make sure you select a water resistant sunscreen. Apply your sunscreen at least 15 minutes before hitting the beach, and reapply every two hours or after you get out of the water. Sunscreens help protect your skin and keep it looking and feeling healthy, but make sure to bring plenty of hats, umbrellas, light coverups, and sunglasses to truly enjoy at day at the beach in the Florida sun.